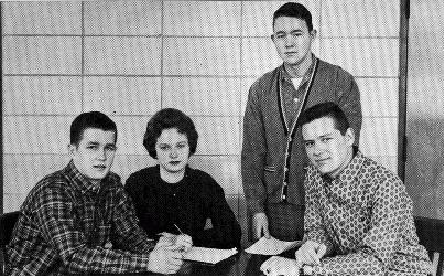 JERRY WESLEY, President; BOB MILLER, Vice-President; KAREN WHITE, Secretary; MICKEY BERTINO, Treasurer.

Senior Class History

"What an enormous place! I hope I don't get lost!" These were some of our thoughts as we began four years of profitable study, unsurpassable fun, and unforgettable memories. Even if "Catastrophe" did look like the theme of our Homecoming float, we almost burst with pride at having a Polio Queen from our class. Also, we felt much more sophisticated than the usual freshman class because we were the first to use the new buildings. Our freshman story would be incomplete without mentioning the concert by the Ulini Men's Choir. Too bad the freshman girls weren't just a little older! As we entered school as sophomores, I'm sure we must have taken on the air of "know-it-all." After all, who could tell a sophomore hehadn't learned everything in one year? Foremost among the memories of that year was a sophomore Polio Queen. At the end of the year we were all set with a few prom ideas and a determination for a perfect record of Polio Queens from our class. We did it! Another Polio Queen! Very ably supervising our prom, in which we took the Senior Class to "Candy Land," were Mrs. Camp and Mr. Greer. Remember the "Curious Savage, " our junior play, with Ethel P. Savage and the inmates of the Cloister? And remember our boast as the only junior class to have both the Homecoming Queen and the Basketball Queen from our class! My, that was a good year! Then came our final year. Definitely decided to make this as eventful as the previous three, we worked frantically to make our candidate Polio Queen. Also, we had a Homecoming Queen and established a precedent of having a Basketball Dance. Then, who could forget our senior play "Pride and Prejudice" with the beautiful costuming and elaborate scenery? We hope we will be remembered academically as well as socially. As we leave, would anyone mind if we stole a few memories and tucked them in our hearts to cherish in the many years to come?